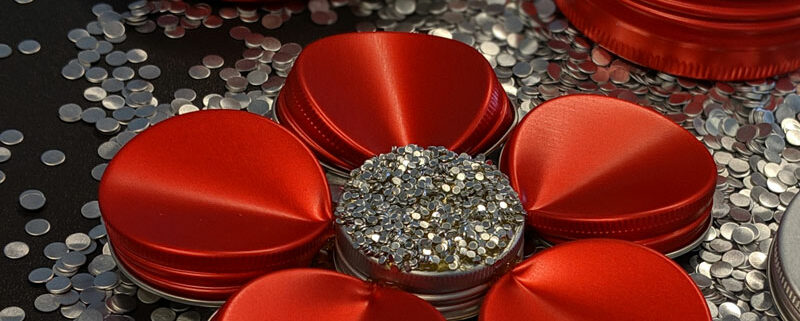 In this latest blog post, we spoke to Kirsty Taylor, Sales and Marketing Manager at Roberts Metal Packaging, about the process of working with new clients, and how Roberts guides them through the packaging process from initial design to final production.

Q: When a new order comes into Roberts, what is the first thing that happens?
We get two types of order at Roberts; repeat orders which are processed within 48 hours, and new orders. New orders might be for a new product, new design, new embossing – really any sort of new project falls into this category. Depending on the product, we can recommend volumes, sizes, materials – and we direct new clients to appropriate products and help them narrow down choices for a bespoke fit.
For example, if a new client was looking to package hair gel, we would recommend a typical capacity – maybe 75 or 100ml – and a range such as the Softline or Softline Extreme, which you can see in use in the Gillette products which won a Highly Commended award at last year's UK Packaging Awards.
We offer expert guidance and then we send more information and samples to prospective clients, alongside examples of customisation options.
Q: How do you help customers identify their best packaging options?
Based on the experience of new incoming clients, we can start right at the beginning by explaining all the processes involved in Roberts' packaging design, decoration, and manufacture. We can walk new customers through all the steps and choices available.
If a client wants colour matches for existing branding, we can provide almost any Pantone colour or create a specific colour match with our external partner Sun Chemicals. Sometimes they might want new packaging to match an existing range from another supplier – tubes, aluminium bottles, or sachets for example. We can take those existing packs and colour match on samples of Roberts' products to fit within that existing range.
The decorating is handled by another of our UK partners, Cyril Luff Metal Decorators in Wales. From them, we receive the flat decorated sheets which are cut and formed here at Roberts. As far as decoration goes, our customization choices are almost limitless when it comes to colour and design. We offer gloss, semi-matt and matt finishes and we can help advise new clients on how to achieve their vision, based also on the quantity needed, to keep them on budget.
Embossing, for example, is an effective way to customize a product and we only need to charge for the one tool required. It is really about helping them to weigh up all the options.
We ask a lot of questions about what clients are trying to achieve, and that helps both them and us establish what they want. It's all about digging for information! A client may think they know which product they want, but a consultation allows us to check suitability – especially with products like acetone nail polish remover, or food items – which may be incompatible with some packaging solutions. We have a detailed conversation so we can offer realistic products and costs to fit the client brief.
It's a positive thing, to be able to help new clients with their packaging solutions – and we feel lucky to be able to offer that in the way that we do.
Q: Is there a recent product you've been proud of?
The recent King C Gillette Beard Balm was a really great looking tin and looks fab on the shelf.  The colour shades and design elements were very specific, and we had several features to include such as the internal blue decoration, copper detailing and graduated embossing on the lid. We had never done embossing like this before but Robertas, Technical Manager, is very talented and is willing to push limits on design, so in turn, we can offer more to clients.
If you'd like to find out more about customisation options at Roberts Metal Packaging, get in touch with the sales team via salesteam@roberts-metpack.co.uk
https://www.roberts-metpack.co.uk/wp-content/uploads/blog-supply-demand.jpg
800
800
Derek Wallace
https://www.roberts-metpack.co.uk/wp-content/uploads/roberts-logo.png
Derek Wallace
2021-07-12 10:43:45
2021-07-12 10:43:45
Supply & demand: Working with new clients