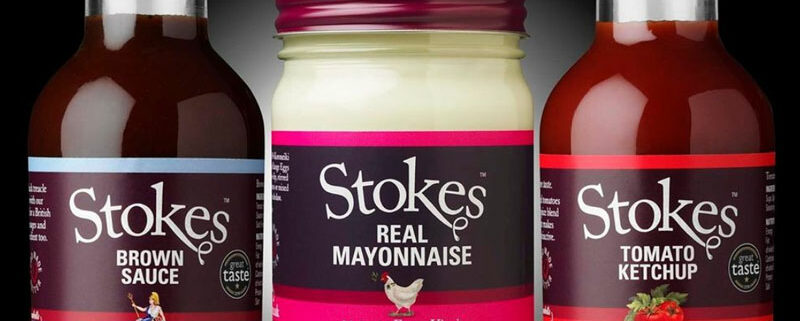 In this latest blog post, we look at the process of re-branding with Stokes Sauces, an existing client who wanted to change the colour and finish of packaging.

Stokes Sauces is probably a brand you're already familiar with, as household name it has become a firm favourite with households not only in the UK, but all around the world. Since Stokes began creating their own delicious ketchup, mayonnaise, and sauces 15 years ago they've favoured glass bottles and jars with metal lids provided by us here at Roberts Metal Packaging.
The branding at Stokes is stylish and distinctive, reflecting the high quality of the product – and the team there have always been focused on packaging being reusable and recyclable. Last year we heard that Stokes wanted to re-brand the colour and finish on the signature screw cap metal lids of its jars and bottles, and Roberts was able assist with the initial design and deliver on final production.
Previously a silver lid, Stokes wanted to change the colour to a rich raspberry shade, with their branding printed over the vibrant base colour.
"If a client, such as Stokes, wants a specific colour match for existing branding, we can provide almost any Pantone colour or create a specific colour match or palette with our external partner Sun Chemicals," explains Kirsty Taylor, Sales and Marketing Manager.
"Sometimes they might also want new packaging to match an existing range, which we also looked at here, as Stokes expanded their offering to include a wider variety of sizes for consumers to choose from. We can take existing branding, packs and colours to create samples of Roberts' products to fit within an existing range, to meet the brief laid out by the client."
The decorating, including design and lettering, is undertaken by another of Roberts' UK partners, Cyril Luff Metal Decorators in Wales. From them, Roberts receives the flat decorated sheets which are cut and formed in London.
"As far as decoration goes, our customisation choices are almost limitless when it comes to colour and design," says Kirsty. "We offer gloss, semi-matt and matt finishes and we can help advise clients on how to achieve their vision, based on the quantity needed, whilst keeping them on budget."
And the result for Stokes? A fresh new look!
⠀
"As some of you may have already spotted, we are incredibly excited to be introducing brand new raspberry-coloured lids and vibrant new labels as part of our 'fresh new look'" stated the Stokes Instagram and LinkedIn pages last month.
View this post on Instagram
"Designed to brighten the shelves with colourful appeal, we have worked hard to create an exciting brand identity that is vibrant and bold across our family of delicious sauces. Plus, we are introducing new jar sizes so that you can enjoy 'just the right amount' of your favourite sauces, chutneys, condiments, and preserves."
If you'd like to find out more about customisation options at Roberts Metal Packaging, get in touch with the sales team via salesteam@roberts-metpack.co.uk
https://www.roberts-metpack.co.uk/wp-content/uploads/blog-rebranding-stokes.jpg
800
800
Derek Wallace
https://www.roberts-metpack.co.uk/wp-content/uploads/roberts-logo.png
Derek Wallace
2021-07-12 10:56:44
2021-09-14 12:51:27
Re-branding for existing clients