Roberts Metal Packaging's range of forever recyclable lids and jars is met with interest and enthusiasm at Packaging of Perfume Cosmetics & Design (PCD) in Paris and Packaging Innovations, Birmingham 
Trade shows in the packaging space are back and they mean business! Busier than ever and boasting a wide range of high-quality product ranges, Brexit has been powerless to dampen the sector's enthusiasm for trade exhibitions. Any lingering misgivings about meeting up in-person at such events seem to have disappeared too.  
We need to look no further than Roberts Metal Packaging's recent experiences at PCD, Paris and Packaging Innovations, Birmingham for a case in point. Let's hear what Kirsty Taylor, the company's Sales and Marketing Manager, has to say on the subject.  
Ashfield Extrusion exclusively on-stand with Roberts at PCD, Paris 
As Europe's premier manufacturer of aluminium and tinplate jars and screwcaps, Roberts Metal Packaging has been exhibiting at PCD as part of Paris Packaging Week – the must-attend event for business and innovation within the global perfume and cosmetics packaging community – for many years.  
As always, Roberts was pleased to showcase its full product range to customers and prospects from France, Germany, the UK and other European countries. Vastly exceeding usual traffic numbers, visitors were keen to source new packaging ideas and brainstorm the options with us. They were particularly interested to see the range of extruded jars and pots we had on-stand – the result of a longstanding, close collaboration with Ashfield Extrusion.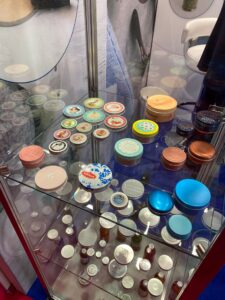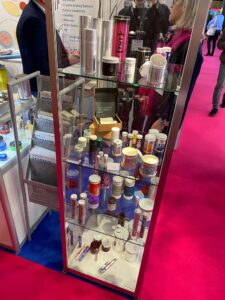 We provide all the aluminium lids and caps for Ashfield Extrusion's range of jars and tubes. Working in close partnership with them, we ensure perfect-matching in terms of sizing, colour, embossing, style and more.  We can match almost any Pantone colour requirement imaginable. And if it doesn't already exist – thanks to our partnership with Sun Chemicals – we will create it. The only limit is your imagination!  
Our Ashfield Extrusion range was exclusive to Roberts at the show and made quite a splash!  
Sustainability still top of mind at Packaging Innovations, Birmingham
Where PCD attracts an audience from across Europe and the UK, Packaging Innovations enables us to focus our attention on networking with our UK-based suppliers, customers and prospects. We exhibit at this must-attend event every year and – as with PCD – were surprised to find that the show was much busier than usual.  
Frequent questions, as always, related to compatibility between our caps and customers' own jars and bottles. Happily, since our caps have been designed for use with glass and plastic bottles, the answer is almost always 'no problem.' So – whether companies were looking to launch an entirely new product or to transition from plastic to aluminium caps – they appreciated our positive can-do approach, proven capabilities and examples of the finished products.  
The show also highlighted that interest surrounding sustainability and recycling continues to gain momentum. We always warn our customers of the dangers of relying on such misleading metrics, useful only as marketing soundbites. Unlike with plastic or paper packaging, metal is infinitely recyclable. It's this message that manufacturers need to focus on. It's about educating consumers about the 'forever recyclable' aspect of metal that matters. 
The packaging industry is both highly competitive and constantly-evolving. If you want to gain and retain a competitive edge, you need to keep your fingers firmly on the pulse of all the latest trends and innovations. Attending trade shows is a key part of the challenge.  
The incredible dynamism and vibrancy we witnessed at this year's PCD and Packaging Innovations, and rapidly growing consumer appetite for recycling combine to offer a great growth opportunity to Roberts Metal Packaging. Our high-quality solutions enable our customers to stand out from the crowd and we look forward to helping them to do so today, tomorrow and for the long-term.  
To tap into our industry expertise and brainstorm best-fit options, please get in touch with our Sales Team today on salesteam@roberts-metpack.co.uk or on +44 (0)20 8320 9500! 
https://www.roberts-metpack.co.uk/wp-content/uploads/roberts-3.jpg
768
1024
Josephine
https://www.roberts-metpack.co.uk/wp-content/uploads/main-logo-300x80.png
Josephine
2023-03-24 12:23:43
2023-04-05 19:32:27
Trade shows are back and they mean business!