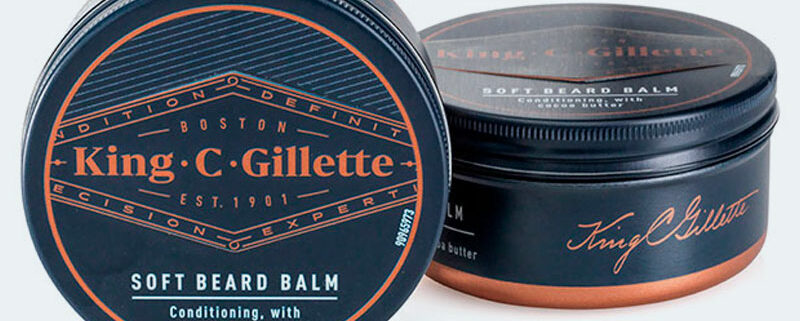 Roberts Metal Packaging worked with client Procter & Gamble to develop and manufacture the metal jar for King C Gillette's Soft Beard Balm and has since received the highly commended award in the Metal Pack of the Year category at the UK Packaging Awards 2020.
Released during lockdown in May 2020, the King C Gillette range already accounts for 20 per cent of sales from Gillette's online store. "[Beard care] was a trend prior to lockdown, but with barbers closed post-lockdown it's been huge," said Daisy Gray, VP of grooming for northern Europe at brand owner P&G told The Grocer earlier this year. "It's been a wonderful time for us to launch our beard care brand King C Gillette."
As part of a retro-inspired range, carrying the name of American entrepreneur King Camp Gillette, who popularised safety razors at the turn of the 20th century, the brief for the Soft Beard Balm required an aluminium jar, with excellent recycling credentials, suitable for regular use in the warm damp environment of a bathroom.
Essential features included a leakproof seal, easy-open/easy-close lid and superior design and tactility, for "shelf appeal".
A 100ml jar from the Roberts' Softline range was selected, made from 0.30mm recyclable aluminium with a continuously threaded, knurl-edged lid. The lid is also fitted with an EPE liner which alongside the Softline design, ensures easy screw on and off action. The lid is both leak- and damp-proof and can be totally resealed after every use.
Roberts aims to add value to every brand or product through packaging design, and in the case of the Soft Beard Balm the decoration and embossing needed to exhibit an instinctive tactility and ensure a strong shelf presence amongst similar products.
Working closely to the client's specifications, the basic jar was transformed by decoration, embossing and design. Custom tooling for a unique fading diamond embossing was developed alongside options for colour, finish, and texture to match other packaging formats in the King C Gillette range.
An additional blue internal decoration was formulated to cover the external rolled edge in order that it matched the overall colour scheme – and the aluminium was printed without undercoat white to allow substrate show through. When completed with a matt over-varnish, it gave a truly metallic finish with aesthetic shelf appeal.
Roberts utilised their fully automated production line at their state-of-the-art London factory where the metal jar underwent pressing, thread rolling and liner insertion to the highest quality standards. An additional plus point to the final design selection was the high-speed and low-cost of the manufacturing of this product.
"We've got many years of experience working with beauty and cosmetic clients. Our extensive packaging design and production experience really came together with the vision of our client, P&G, and together we were able to create the best quality, most attractive and cost-effective solution for the Soft Beard Balm," said Chris Saunders, MD at Roberts Metal Packaging.
"It's a beautiful jar, with a great colour, metallic finish and retro design – you want to pick it up from the shelf. It's very appealing; it looks good and seals as well as the first time you use it. We think it stands out as what will hopefully become a modern classic."
https://www.roberts-metpack.co.uk/wp-content/uploads/blog-gillette.jpg
800
800
Derek Wallace
https://www.roberts-metpack.co.uk/wp-content/uploads/roberts-logo.png
Derek Wallace
2020-11-23 11:35:45
2021-02-10 13:29:14
Crowned highly commended: King C Gillette's Soft Beard Balm tin